Wilhelmsen Liferaft Service Station, Miami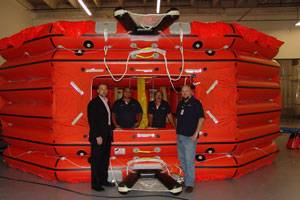 Wilhelmsen Ships Service is pleased to announce that their Liferaft and Marin-Ark service station in Miami, Florida is now fully operational.

It is a stand-alone station conveniently situated between the port of Miami and Port Everglades in South Florida, approximately 4 kilometers from the current Wilhelmsen Ships Service premises in Miami.

The station is certified to service all Unitor branded rafts as well as Marin-Ark MES Systems, which are among the largest rafts in the world, with a life-saving capacity of 430 persons per evacuation system. The station is also fully stocked to deliver and exchange Wilhelmsen Ships Service liferafts in all southeast ports for any customer with an LRE (Liferaft Rental Agreement). The station's team will be attending a scheduled training course in France this October to be certified to service Seasafe rafts. They will continue to work on gaining further approvals for all other brands within the Survitec group offer.

The station began as a dusty warehouse that had to be restructured into a workshop. All Wilhelmsen Ships Service's team members have been very involved in the numerous tasks, including negotiation, coordination and monitoring of the construction carried out by sub-contractors. They have also ensured that all of the necessary permitting and licensing for the station is in line with the local authority requirements.