Willard Marine's Twin Diesel RIB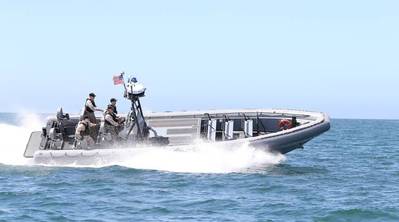 Rigid hulled inflatable boats (RIBs) have come a long way since their initial development in the United Kingdom in the late 1960s. Long noted for their stability and safety in turbulent seas, they have found applications in rescue work and military settings.
Willard Marine, Inc. of Anaheim, Calif. has a long history of conventional hulls and RIBs. They currently produce a variety of models and sizes of RIBs from 4.9-meters up to 11.07. As are all the firm's RIBs, the SEA FORCE 1100 is available with either fiberglass or aluminum deep-V hulls. Primarily designed for the US Navy, the Sea Force 1100 has been internationally marketed and is also available for civilian uses such as whale watching or local tours.
With a 3.6-meter (11'9") beam on its 11.07-meter (36'4") length this is a big boat with huge capabilities. In addition to nine crew seats aft of the center console, seating for up to 17 passengers is provided in the forward section of the hull. A non-skid-coated decked space, just ahead of the operator's console and over the engine compartment, can carry up to 4,870 pounds of cargo.
A pair of Cummins six-cylinder, EPA tier 3 rated, QSB6.7-liter engines each rated for 380 horsepower provide propulsion. The engines power Hamilton HJ292 water jets through ZF-280-1 gears with 1.214;1 ratios. With this power, the boat has, at 17,600 pounds, a speed of 38 knots. At 20,000 pounds of total weight, the boat achieves 34 knots. The bollard pull with this configuration of power is 5,600 pounds.
These are big, powerful people movers with deep-V hulls and a fine entry tapering to a 19-degree deadrise at the stern. The 40-ounce UV-coated polyurethane tube that surrounds the hull has eight compartments, filled with three-PSI of air pressure.
Designated "Landing Platform Dock (LPD-17 Class), LCS" by the US Navy, the RIB can be ordered with enclosed cabins or other superstructure modifications.