US Navy Opts for 5 More RIBs from Willard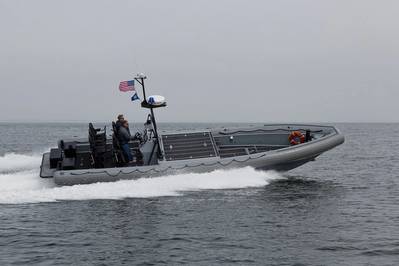 The U.S. Navy exercised an option on its contract with Willard Marine, Inc. requesting five more 11-meter rigid inflatable boats (RIBs) in addition to the 10 that the Navy had previously ordered in 2014.
Willard Marine will provide three 11-meter Open Center Console (OCC) boats that will be equipped with twin Cummins QSB6.7 380-hp engines, and two Visit, Board, Search and Seizure (VBSS) boats equipped with twin Cummins QSB6.7 480-hp engines, both versions of which will be paired with Hamilton Jet HJ292 water jets.
For 37 years, the U.S. Navy has purchased a variety of boats
from Willard Marine inclu
ding nearly 700 11-meter and 7-meter RIBs that are primarily stored aboard and launched at sea from large naval ships deployed around the world. Many 11-meter RIBs have been procured by the U.S. Navy and Coast Guard in support of their Foreign Military Sales (FMS) divisions.