Team Windcraft Heads to SCIBS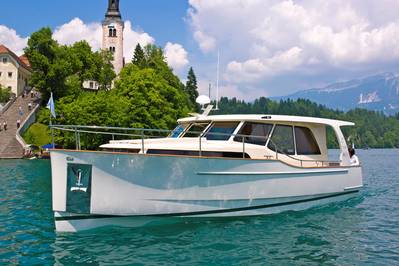 One of Australia's leading yacht importers, Team Windcraft, will have something special on board when it docks at the 2013 Sanctuary Cove International Boat Show in May.


The company, which has bases in Melbourne, Sydney and Queensland, will showcase the new Hanse 345 hot on the heels of its Australian premiere at the Melbourne Summer Boat Show in February.


Team Windcraft will also use its appearance at SCIBS to float two 'green' vessels from its innovative Eyachts stable.


Managing director Peter Hrones said the 345 had the hallmark precision and quality of one of the world's best yacht designers – Hanse. "For a 34-footer this yacht is efficient to the max and has Hanse's trademark craft and styling," he said.


German designed and built, the Hanse 345 has a twin wheel, new navigation, bathing platform, three-cabin layout option, Boss/Fusion entertainment system, new light strips for better lighting and ventilation, self-tacking headsail, optional electric winches and all lines lead to the helm position. Customisation options for the 345 include the choice of three floor woods, two galley work tops and upholstery colours and material.


A new performance pack is available including upgraded Elvstrom sails designed by Jesper Bank.


Team Windcraft's Eyachts exhibit at SCIBS 2013 will present two eco-friendly luxury motor yachts for the boatie who values efficiency and the environment. They include the multi-award-winning Greenline Hybrid 33 - the first truly hybrid boat to utilize solar, diesel and electric power effectively and its successor the Greenline Hybrid 40, which offers fast cruising in shore or off shore.


Mr Hrones said both vessels offered affordable, comfortable, quiet and fuel-efficient cruising. "The superdisplacement hull design creates stability at sea, achieving unmatched anti-roll, tracking stability and fuel efficiency," he said. "Greenline's hybrid design drastically reduces running costs and carbon footprint, which is becoming more relevant to today's boatie. "The Greenline 33 is a multi-award winning yacht recognized across the globe as boat of the year in several countries. "It has also received awards for its green technology and economic feasibility."


Both yachts have seamless and comfortable indoor and outdoor living with an adaptive saloon providing all season boating.


The Hybrid 33 sleeps four with a twin or full-size bed option and a convertible lounge in the saloon. The bigger vessel offers stand-up head room in the master and guest cabin.