Wind/Solar Ship Power System Earns Patent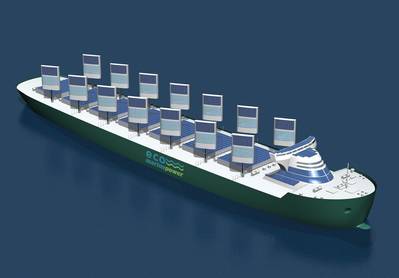 Eco Marine Power's (EMP) Aquarius Marine Renewable Energy (MRE) System, a wind and solar power solution for ships, has been granted a patent in Japan, paving way for commercial production.
The Aquarius MRE System is an integrated system of rigid sails, solar panels, energy storage modules and marine computer platforms that will enable ships to tap into renewable energy by harnessing the power provided by the wind and sun.
The rigid sails that will be used by the Aquarius MRE System are based on EMP's
EnergySail technology
(Patent Pending). EMP's EnergySail technology has already passed feasibility and function testing at the Aquarius Innovation Lab in Osaka, Japan, and earlier this year it was announced that Teramoto Iron Works in Onomichi, Japan, would be the production center for the EnergySail.
In addition, the marine solar power component of the Aquarius MRE System was evaluated this year on board the high speed car and passenger ferry Blue Star Delos.
Commenting on the approval of the patent,
Greg Atkinson
, Chief Technology Officer of
Eco Marine Power said
, "The granting of this patent, which covers much of the core technology behind the Aquarius MRE System, is another major milestone for Eco Marine Power. It will help clear the path towards full commercialization of the system and allow us present to shipping companies and shipyards a viable renewable energy system for ships."