Windsurf Champ Set to Defend Storm Chase Title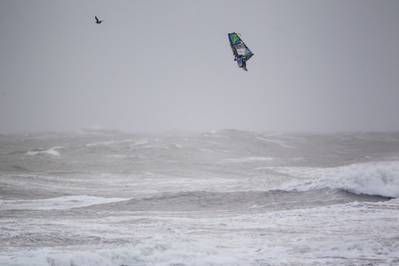 Fresh from a second Storm Chase victory, in Tasmania, Thomas Traversa, the 2012 KIA Cold Hawaii PWA World Cup champion, is in relaxed and typically modest mood ahead of the start of his title defence in Klitmøller, Denmark, on Monday September 16, 2013.
"I believe in myself more. I'm not like 'oh, I'm going to lose, I'm going to lose', I know I have a chance, It's good," Traversa said. "After the win last year, I won the first mission of the Storm Chase in Ireland, I did well in Tenerife for the first event (of the PWA Wave tour, where he finished fifth behind the winner, Köster) and I'm a bit more confident."

Traversa's choice of his main rivals in Klitmøller comes as no surprise; Philip Köster, the German winner of the wave tour for the last two years and Spaniard Victor Fernandez Lopez, second on the tour last year. Traversa's friend Alex Mussolini and Ricardo Campello, who were third and fourth in Tenerife respectively and have the quality in all conditions, will also be in the mix.

The man who confesses that it is not all about competing for him and that he "still likes to windsurf more than I like to win," is looking forward to being back in Klitmøller, which has long been a place of pilgrimage for windsurfers in the know. "Klitmöller is a good place, and you can feel that it is kind of "the" spot in the North Sea, where there are a lot of windsurfers, surfers - people appreciate what we do in the water," he said. "Having this event on the wave tour is a good thing because it gives us a chance to show some different skills when a storm hits the coast, and we always see some new people doing well in this event, it is really open."

HRH Crown Prince Frederik of Denmark. The Crown Prince, a former Danish Navy Seal accomplished sailor and iron man triathlete, will try his hand at windsurfing on Sunday, September 15, before the pros take over.