Prince Joins Stars on Eve of PWA Windsurf Race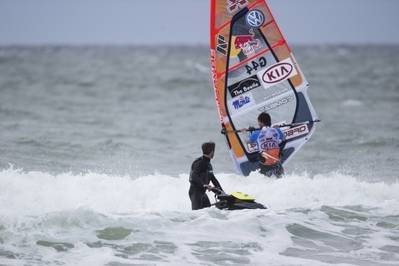 HRH Crown Prince Frederik of Denmark met the PWA windsurfing stars in Klitmøller, Denmark, on the eve of the 2013 KIA Cold Hawaii PWA World Cup on Monday, September 16.
A former Danish Navy Seal, accomplished sailor and iron man triathlete, the Crown Prince is the new event patron and spent the morning learning the sport in this windsurfing mecca. He was on Vandets Sø near Klitmøller, with 15 7-15 year-old children from Glyngøre school. He then took a jet ski out in Klitmøller to get a closer look at how the professionals do it.

"As a sailor, looking at the acrobatics and the techniques that they master is impressive, seeing what man has made to make it possible to defy the laws of gravity," the Crown Prince said. "To this part of Denmark it's (the Cold Hawaii world cup) extremely important. The whole area has realised that this is something to be proud of but also to attract tourists from all over Europe, maybe even the world."

The Crown Prince met Germany's Philip Köster, the 19-year-old double PWA world champion and windsurfing's wunderkind, Spain's Victor Fernandez Lopez, the 2010 world champion and world number two and former German champion, Klaas Voget.