Hall Spars Rig Winning Yachts in Maxi Rolex Cup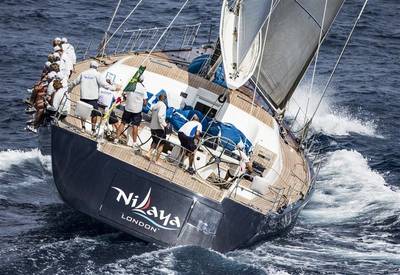 Hall Spars & Rigging equipped yachts claim victory in three of the five divisions of the Maxi Yacht Rolex Cup 2012 at Porto Cervo, Sardina.

The 2012 edition of the Maxi Yacht Rolex Cup that took place in Porto Cervo, Sardina, could be described as one of the top events in the yachting world, marked by close competition and changing wind conditions.

Inaugurated in 1980 and the jewel in Rolex's international yachting portfolio since 1985, the event, organized by the Yacht Club Costa Smeralda (YCCS) and the International Maxi Association (IMA), attracted 34 international Maxi yachts – measuring upwards of 18.29 meters (60 feet) for a week of top quality racing.

Hall Spars give the following details:

Bella Mente (USA) Wins Mini Maxi Rolex World Championship
Hap Fauth's JV72 Bella Mente dominated an evolving and competitive Mini Maxi fleet, claiming victory in the third running of the Mini Maxi Rolex World Championship.
Hall Spars Sweep the Supermaxi Class
Filip Balcaen's Baltic 34.13m Nilaya made short work of the Supermaxi class – the division for the week's largest yachts. Nilaya, the only Supermaxi equipped with racing sails, took advantage of being able to perform tight maneuvers much quicker than her rivals, thanks also to teamwork honed by a crew that has been together for over a decade.
Four Bullets for Aegir
In the Maxi Racing/Cruising Class, open to yachts dually designed to sail at speed and with comfort, Hall Spars-equipped Aegir, a Rodgers Carbon Ocean 82, claimed victory.