AAPA 'Trade Routes' Workshop to Address Trade Trends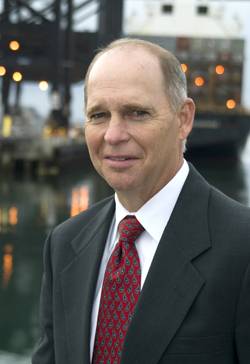 Panama Canal Expansion Impacts

The assumption that trade conditions and infrastructure will drive future transportation changes will be the overriding theme at the sixth annual American Association of Port Authorities' (AAPA) "Shifting International Trade Routes" workshop in Tampa, Fla., Jan. 24-25, 2013. The 1½-day program, which is being cosponsored by the U.S. Maritime Administration and hosted by the Tampa Port Authority, will address the range of issues related to dynamic, global and hemispheric trade.

Among the topics for discussion are: timely economical trade outlooks; potential impacts of transshipment; the latest status of the Panama Canal expansion project; and perspectives from ocean carriers, rail, terminal operators and ports.

Specific workshop sessions will assess the international economic outlook and shifts in global trade; present the views of cargo owners, ocean carriers, ports, terminal operators, warehouse and distribution centers, and rail interests on trade; give an update on the planned expansion of the Panama Canal; and provide international perspectives on shifting trade routes in the Western Hemisphere.

"As we seek ways to stimulate our economic recovery and future growth, we shouldn't forget the importance of implementing policies and funding that will sustain and improve our critical gateways for global trade," said Kurt Nagle, AAPA president and CEO. "For nations throughout the Western Hemisphere, raising the priority of their ports and connecting infrastructure in the national agenda can help make them more internationally competitive in an increasingly fierce global trading environment."

Mr. Nagle further noted that the discussion during AAPA's sixth Shifting International Trade Routes workshop "will add layers of information and insight to help the seaport industry better position itself for future growth and success."
Charles Klug, Tampa Port Authority's interim port director and chief executive, said, "The Tampa Port Authority is again very pleased to host this successful AAPA conference, bringing together top transportation and logistics minds from across the country. Florida's largest and most diversified port is the perfect location to host this well-attended annual forum."

Confirmed speakers include:
Lea Bogatch-Genossar, president of Zim American Integrated Shipping

Gene Seroka, president, APL Americas

Tom Perdue, president, Ports America

Bruce Cashon, senior vice president & chief commercial officer, Ceres Terminals Incorporated

Curtis J. Foltz, executive director, Georgia Ports Authority

R. Adm. Richard M. Larrabee, USCG-ret., director, Port Commerce Dept., Port Authority of New York & New Jersey

Rodolfo Sabonge, vice president, Market Research & Analysis, Panama Canal Authority

Walter H. Kemmsies, Ph.D., chief economist, Moffatt & Nichol

John Martin, president, Martin Associates

Juan J. Flores, state freight and logistics administrator, Florida Department of Transportation

Richard Sharpe, CEO, Competitive Insights

WHO: American Association of Port Authorities, cosponsored by the U.S. Maritime Administration and hosted by the Tampa Port Authority
WHAT: Workshop examining the effect of the world economic outlook on investment decisions and cargo movements in relation to international trade
WHEN: Jan. 24-25, 2013 (Day 1, 8:30 a.m. -5:00 p.m.; Day 2, 8:30 a.m.-12:00 noon)
WHERE: Sheraton Tampa Riverwalk Hotel, 200 North Ashley Drive, Tampa, FL
INFO: More information about AAPA's 2013 Shifting International Trade Routes workshop is available at www.aapa-ports.org (click on the "Programs & Events" tab) or by calling AAPA's Ed O'Connell at (703) 684-5700
MEDIA: Credentialed media wishing to cover the business sessions of this event are asked to call or email AAPA's Aaron Ellis (tel: 703-706-4714 / email: [email protected]) in advance to obtain a media badge