Transas Marine Gets Bridge Workstations Order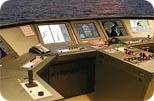 Transas Marine to supply four DNV NAUT - OSV (A) Class navigational bridge workstations to newbuilds in China
Each bridge consists of 7 x Multifunctional Display (MFD) Workstations with DNV NAUT – OSV (A) Class Notation.
The bridge equipment including 12KW X-Band Navi-Chart Radar, 30KW S-Band Navi-Chart Radar, Navi-Sailor Dual ECDIS, Navi-Conning, Slave MFDs will be installed on 4 x UT755 PSVs.
The Navi-Conning Module, which can also be supplied "Off-the-Shelf", has been specially customised to include the Aft & Bow Docking Mode.
All vessels will be built at PaxOcean Engineering (Zhuhai) Co. Ltd, Guangdong Province, China.
Delivery is scheduled for 2012 for the first two vessels and 2013 for the next two vessels, all of which were designed by Rolls Royce, Norway.