Canada Aims for 'World-class' Tankship Safety System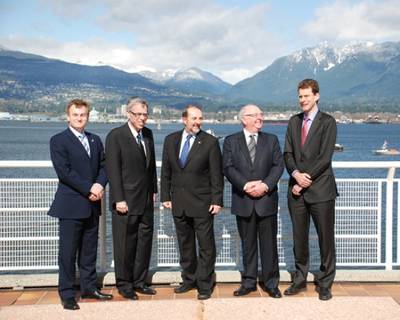 Canada acts to upgrade its safety system for shipping oil & liquefied natural gas safely through Canada's waterways before any major new energy export facilities become operational.
The Government introduce eight measures to strengthen Canada's tanker safety system:
Tanker inspections: The number of inspections will increase to ensure that all foreign tankers are inspected on their first visit to Canada, and annually thereafter, to ensure they comply with rules and regulations, especially with respect to double hulls.
Systematic surveillance and monitoring of ships: The government will expand the National Aerial Surveillance Program (NASP).
Incident Command System: The government will establish a Canadian Coast Guard (CCG) Incident Command System which will allow it to respond more effectively to an incident and integrate its operations with key partners.
Pilotage programs: We will review existing pilotage and tug escort requirements to see what more will be needed in the future.
Public port designations: More ports will be designated for traffic control measures, starting with Kimitat.
Scientific research: The government will conduct scientific research on non-conventional petroleum products, such as diluted bitumen, to enhance understanding of these substances and how they behave when spilled in the marine environment.
New and modified aids to navigation: The CCG will ensure that a system of aids to navigation comprised of buoys, lights and other devices, to warn of obstructions and to mark the location of preferred shipping routes, is installed and maintained.
Modern navigation system: The CCG will develop options for enhancing Canada's current navigation system (e.g. aids to navigation, hydrographic charts, etc) by fall 2013 for government consideration.
In addition a three-member advisory panel was appointed, led by Captain Gordon Houston (former President of Vancouver Fraser Port Authority).
In the picture: Left to right: MP Andrew Saxton, Minister Jo Oliver, Minister Denis Lebel, Captain Gordon Houston & Robin Sylvester