SCI's Worldwide Agents Meet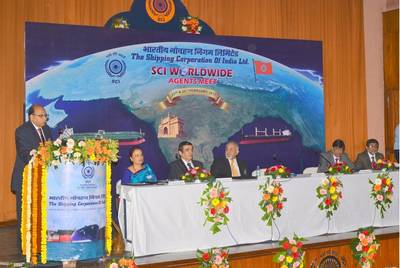 The Shipping Corporation of India's (SCI) Worldwide Agents Meet 2015 was this year held in the Auditorium of it's Maritime Training Institute at Powai. The meet was attended by about 102 delegates from various agency houses representing Far East, Indian Subcontinent, Persian Gulf, Western Europe, Mediterranean, Black Sea, Red Sea, USA etc.

The two day meet began with auspicious lightening of lamp by the Chairman and Managing Director (CMD) Shri. Arun Kumar Gupta. All the functional directors of SCI, Capt Sunil Thapar , Director (Bulk & Tanker Division), Capt. B B Sinha, Director (Personnel & Administration), Capt S Narula, Director (Liner and Passenger Services), Capt K Devadas, Director (Technical & Offshore Services) and Smt H K Joshi (Director – Finance), were present for this Meet.

Deliberations were held with regard to issues concerning the current Shipping Market, steps to improve the business and way forward. An opportunity was also taken to sort out various operational, commercial and financial issues pertaining to Agents.

It is expected that this meet will help in increasing and improving the SCI's operations in its various segments of Liner, Bulk Carriers, Tankers, Offshore and other related services.

SCI MAINTAINS MOMENTUM

During the quarter ended 31.12.2014, the SCI posted net profit of Rs 31.35 Crores which brings to total profit for 9 months of Financial year 2014-2015 to Rs 99.44 Crores. This is the 4th consecutive quarter where SCI continuously has posted a profit.