Vendée Globe, Everest of Yachtsmanship, Underway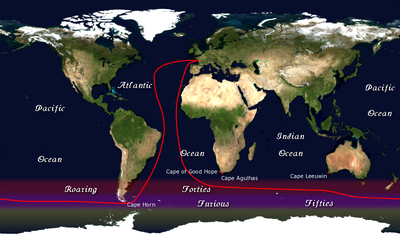 The Vendée Globe 2012-2013, is a round-the-world single-handed yacht race, sailed non-stop and without assistance, a serious test of endurance.

The race started last Saturday and finishes in Les Sables-d'Olonne , in the Vendée département of France ; both Les Sables d'Olonne and the Vendée Conseil Général are official race sponsors.

The course is essentially a circumnavigation along the clipper route : from Les Sables d'Olonne, down the Atlantic Ocean to the Cape of Good Hope ; then clockwise around Antarctica , keeping Cape Leeuwin and Cape Horn to port; then back to Les Sables d'Olonne. The race runs until February; and is timed to place the competitors in the Southern Ocean during the austral summer.

The competitors may stop at anchor, but may not draw alongside a quay or another vessel; they may receive no outside assistance, including customised weather or routing information. The only exception is that a competitor who has an early problem may return to the start for repairs and then re-start the race, as long the re-start is within 10 days of the official start.

Already, one of the favourites to win this year's race, French skipper Marc Guillemot, has pulled out after his boat Safran broke her keel some 60 miles off the coast. No replacement keel for the boat is available so he has had to quit.

Guillemot's early departure leaves a field of 19 at sea, with Francois Gabart of Macif leading from previous winner Vincent Riou with 23,760 miles and three months of sailing ahead.