Z-Drive on the Ohio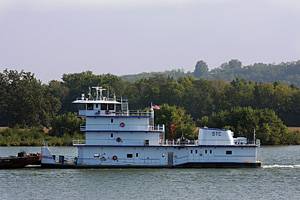 Delivered from Steiner Shipyard in Bayou LaBatre on September 29, the first of Southern Towing's Cummins-powered Z-drive tugs is now pushing barges on the inland waterways. Photographer Jeff L. Yates has provided Cummins Marine with the attached shot of the Frank T. Stegbauer on the Ohio River at on September 30, 2008. According to the company newsletter several wheelmen have already gone for Z-drive training.
At 120 x 34 ft., this is a mid-size inland waterway towboat. The vessel has a pair of HRP model 6111WM Z-drives coupled to a pair of Cummins' new 1600 hp Tier 2 QSK50 engines that are mounted on the main deck level. This design is designed to give the vessel maneuverability while negating the need for steering or flanking rudders. All of the vessel's controls, including the steering, are electrical eliminating the potential for hydraulic spills.
The nozzled propellers will give added bollard pull and steering power. To help with the additional torque that the towboat can apply in turning the barge, four deck winches will be installed rather than the usual two. With nearly the whole hull available for tankage the boat will carry in the 10.6-foot molded depth of the double hull 69,500 gallons of fuel, 13,000 gallons of water, 1100 gallons each of slop oil, lube oil and hydraulic oil. The 15-ton HRP z-drive units will be installed through soft patches in the hull's deck facilitating removal without the use of a dry-dock.