Z-drive Tug Delivered from China to Peru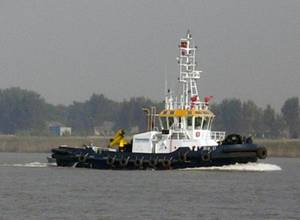 A 87-ft Z-drive tug has recently been delivered from the Jiangsu Wuxi Shipyard Co., Ltd. in China to a Peruvian owner Trabajos Maritimos S.A. The shipyard is located inland from Shanghai on Lake Thai near the town of Wuxi and the Jinghang Grand Canal. Trabajos Maritimos is a comprehensive marine organization offering everything from port agency services, terminal operations, pilotage and towing.

The new tug, delivered in November of 2009, is powered by a pair of Cummins QSK60 engines each delivering 2200 hp at 1800 rpm to hrp model 7111 WM (P3) azimuthing drives with 6.681:1 reduction. The tug is designed with the forward hawser winch typical of modern docking tugs. A pair of Cummins 6BT5.9DM powered genset each provide 100kW of electrical power while a smaller 38 kW set for harbor service is powered by a Cummins 4BT3.9DM genset.