Zamakona Adds Capacity with New Slipway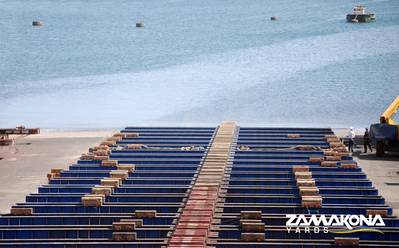 Zamakona Yards Group's Repnaval completes work on its slipway capacity expansion
The shipyard in Las Palmas de Gran Canaria, Repnaval. SA, belonging to the group Zamakona Yards in the Canary Islands, is operating a new slipway.
After an investment of nearly 5 million Euros, the slipway will double the existing capacity is it can accommodate vessels up to 120 meters length by 20 meters beam and 5,500 tons. With these new capabilities, Repnaval can serve almost 80 percent of the vessels that operate in its area, the yard said.
While the yard has four slipways that can reach up to 120 meters in length, the most important improvement is the ability to drag as the previous limit was 3,200 tons.
Álvaro Garaygordóbil, CEO of the Zamakona Yards group, said, "We have undertaken this major investment mainly to respond to the numerous fleets of OSV ships operating our area, some of which have had to stop attending because they cannot get their specifications, especially in tonnage."