ZF Marine Reduction Gear for Vericor Turbine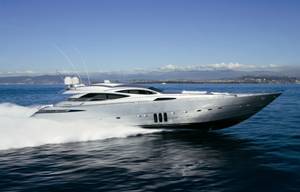 ZF Marine has debuted a special reduction gear designed to match Vericor Power System's TF 40 and TF50 marine turbines. The HSMT 410/730 reduction gear is available in reduction ratios ranging from 9.5 to 20:1, designed to meet the demand for larger and faster high-speed yachts.
Vericor turbines are used in a number of applications, including naval vessels, fast ferries and mega-yachts. These aero-derivative engines are designed to run on diesel fuel and can deliver power up to 5,600 shp. Marine Turbines are typically used for booster propulsion on 78-to-165-ft. high-performance luxury yachts.
The package weighs only 2,800 kg (6,172 lbs.), and is suitable for various waterjet and propeller sizes and types because the available ratio range permits shaft speeds between 800 and 1,700 rpm to be selected. In addition, rotation direction can be defined as well as gearbox output flange arrangement, either under the turbine (C configuration), or on the opposite side (Z configuration).
The multiple disc hydraulic clutch is designed to ensure smooth transmission engagement with minimal mechanical stress and a comfortable changeover when boost power is engaged. The gearbox is also equipped with two PTOs for auxiliary services, each with a maximum torque capacity of 650 Nm (480 lb ft) at 2600 rpm with the turbine running at full power.
The system is monitored via 10 in. touch screen panels located on the bridge and in the engine room, which display all operating parameters. Safety systems continuously monitor performance and will power down the turbine if critical limits are exceeded. ZF Marine also provides the turbine's electronic controls, complete with a wide range of control levers, or a new joystick control system.
The package, comprising turbine engine, transmission and accessories, is exclusively distributed in Italy by Diesel Center S.p.A. in La Spezia. The first system has been successfully installed on the new Pershing 115 GT, with test results showing a top speed of 52 knots.