CMF's USS Bulkeley Frees Ship from Pirates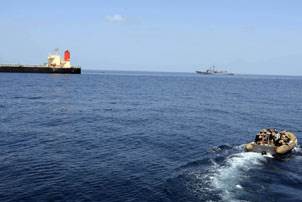 A request for assistance from a Japanese-owned merchant vessel in the Somali Basin led to Combined Maritime Forces (CMF) warship USS Bulkeley (DDG 84) securing the release of the vessel and its 24 crew members from four suspected pirates, Mar. 6.
Following confirmation from Guanabara's master that the suspected pirates were on board and his crew had taken refuge in the ship's "citadel", Bulkeley's specialist boarding team, supported overhead by its embarked SH-60 helicopter, secured the Bahamian-flagged vessel and detained four men.
There was no exchange of fire at any time during the operation to release the MV Guanabara. The decision on what to do with the suspected pirates is ongoing.
.
"Through our mutual cooperation and shared coordination, CTF-151 and our partner organisations have prevented the kidnapping of legitimate mariners who sought only to go peacefully about their business. Today there will be a merchant ship sailing freely that would not be doing so were it not for the efforts of CTF-151."
The Coast Guard responded with multiple air and sea assets on March 6 to reports that an oil production platform caught fire approximately 50 miles off Grand Isle in the Gulf of Mexico-- rescuing the two individuals who were on board the platform at the time of the fire.
An MH65-C rescue helicopter and crew from Coast Guard Air Station New Orleans hoisted the two men from the deck of a good Samaritan vessel, the HDS Stormridge, after they were recovered from a life capsule they used to escape from the fire on board the GI 102A oil production platform.
Arena reports the platform had been shut in two weeks ago and was not producing product at the time of the incident. Bureau of Oceans and Energy Management, Regulation and Enforcement has personnel en route to verify the status of the wells and the platform, as well as investigate the cause of the fire.
The two people recovered are en route to West Jefferson Medical Center in Marrero.
The fire is reportedly out. Fire fighting assets, hired by Arena and under the direction of Capt. Cameron Hudson of the motor vessel Starfleet Viking, are on scene and continue to provide a fire watch in case of re-flash. Coast Guard air assets conducting overflights have not observed any pollution at this time.
The Coast Guard has established a 1,000 yard security zone around the platform. There is also a temporary flight restriction 5 nautical miles around the platform and up to 5,000 feet.