Port of Beaumont Celebrates Centennial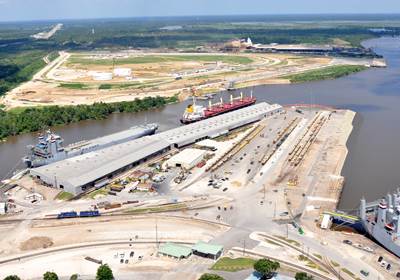 2016 marks the 100th anniversary of the Port of Beaumont, a major deepwater port in Southeast Texas. A series of celebrations and public events began October 20th, when the Greater Beaumont Chamber of Commerce presented the port with its Spindletop Award for outstanding corporate citizenship. A record crowd of 800 people were on hand for the 112th annual Chamber meeting, where keynote speaker, Texas Lieutenant Governor Dan Patrick, saluted the port for 100 years of service.

Port officials have planned a number of events over the next six months to commemorate the Centennial. A Centennial history book will be released in early summer. Other activities in celebration of the history of the port will be announced during the next few months.
In 1909, the newly established Beaumont Navigation District secured funds to build a ship channel that would allow ocean-going vessels to reach the city of Beaumont. The first nine- foot channel allowed passage only by shallow-draft boats. Funds were matched by the government through the Rivers and Harbors Act of 1911, and construction on the deepwater channel began.
The Port of Beaumont has offered 100 years of uninterrupted service and owes its growth and success to the vision of forefathers who worked diligently to attract international commerce to Beaumont.