US Navy Sets Course for the Arctic Circle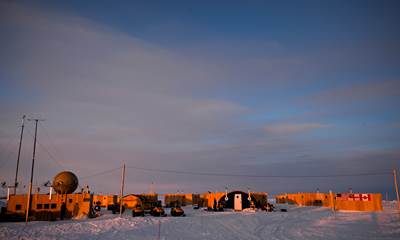 Commander, Submarine Forces (COMSUBFOR) officially kicked off Ice Exercise (ICEX) 2016 in the Arctic Ocean with the construction of U.S. Navy Ice Camp SARGO March 2.
ICEX 2016 is a five-week exercise designed to research, test and evaluate operational capabilities in the Arctic region.
"ICEX allows us to assess our operational readiness in the Arctic, increase our experience in the region, develop partnerships and collaborative efforts, and advance our understanding of the Arctic environment," said Vice Adm. Joseph E. Tofalo, commander, Submarine Forces.
"The Arctic environment plays a key role in national defense. With over a thousand miles of Arctic coastline, the U.S. has strong national security and homeland defense interests in the region."
The Arctic is experiencing a trend of diminishing sea ice extent and thickness creating the likelihood of increased maritime activity in the region, including trans-oceanic shipping and resource extraction.
A temporary camp is being established on a sheet of ice, known as an ice floe, in the Arctic Ocean to maintain submarine readiness and support arctic objectives and initiatives.
Ice Camp SARGO, will serve as a temporary command center for conducting operations in the Arctic region. It consists of shelters, a command center, and infrastructure to safely house and support more than 70 personnel at any one time.
Submarines have conducted under-ice operations in the Arctic regions in support of inter-fleet transit, training, cooperative allied engagements and operations for more than 50 years. USS Nautilus (SSN 571) made the first transit in 1958. USS Skate (SSN 578) was the first U.S. submarine to surface through arctic ice at the North Pole in March, 1959.