USS George H.W. Bush Maiden Deployment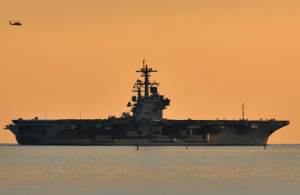 The George H.W. Bush Carrier Strike Group (GHWB CSG) departed for its maiden deployment May 11.
The deployment is part of an ongoing rotation of U.S. forces supporting maritime security operations in international waters around the globe.
Working with allied and partner maritime forces, GHWB CSG units will focus heavily on maritime security operations and theater security cooperation efforts which help establish conditions for regional stability.