Crowley Recognized for Environmental Stewardship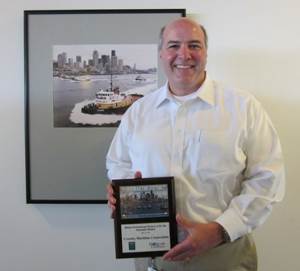 Crowley Maritime Corporation was recently recognized for its environmental stewardship by the Port of the Seattle and Seattle Propeller Club, which teamed up to present the company with its second-consecutive honorable mention award for Marine Environmental Business of the Year.
"We are honored to be recognized again for our past and ongoing environmental stewardship efforts," Hoggarth said. "For Crowley, the effort to protect and improve the environment is not only a company-wide endeavor, but a way of life. We are proud to be a part of this select group that strives to make the world a greener place."
Crowley has also received special recognition by several environmentally focused organizations including the Chamber of Shipping of America's Jones F. Devlin Awards for Safety, the U.S. Coast Guard's William Benkert award for environmental excellence, the Washington Department of Ecology's Exceptional Compliance Program (ECOPRO) Award, the Pacific States/British Columbia Oil Spill Task Force's Legacy Award, and the San Pedro Bay Ports Clean Air Action Plan Air Quality Award.