Northrop Grumman Delivers William P. Lawrence (DDG 110)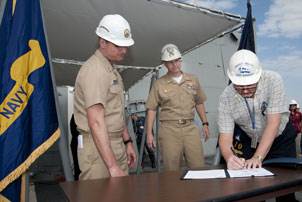 On Feb. 24, the U.S. Navy accepted Northrop Grumman Corporation (NOC)'s (NYSE:NOC) latest Aegis guided missile destroyer in a ceremony held on the fantail of the Navy's newest ship. William P. Lawrence (DDG 110) is the 28th DDG 51 Class destroyer built at the company's shipbuilding operations in Pascagoula.
William P. Lawrence will be commissioned later this year in Pensacola, Fla.
"The story of Adm. Lawrence is inspiring," said Cmdr. Williams. "It inspires me and my crew to strive for greatness every day. When we leave this shipyard, we don't know what the world has out there, but I know this ship is our home. This is the Navy's best crew. And we won't let down the shipbuilders, the men and women of Northrop Grumman, and the American people when we leave the shipyard. We will never ever give in. "
DDG 110 honors the late Vice Adm. William P. Lawrence, who spent nearly six years as a prisoner of war in North Vietnam. He later served as superintendent of the U.S. Naval Academy.