Irving Shipyard Offers College, Job Opportunities for Women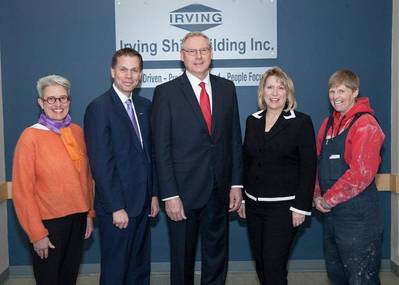 Irving Shipbuilding's partnership with Women Unlimited provides community college funding and job opportunities at Halifax Shipyard
Irving Shipbuilding has partnered with Women Unlimited to provide education funding and job opportunities to 20 women who will participate in the welding and metal fabrication program at the Nova Scotia Community College (NSCC) Akerley Campus.
The partnership is an outcome of Irving Shipbuilding's
Centre of Excellence funding
announced in October 2012. The mandate of the Centre of Excellence is to provide Nova Scotians, with particular focus on under-represented Nova Scotians, with applicable programs and training to optimize opportunities to work in the marine industry.
The Centre of Excellence has representation from the Department of Labour and Advanced Education; Department of Education; the Women, People with Disabilities, Aboriginal, and African Nova Scotian Communities; Unifor; Irving Shipbuilding; and NSCC, who have all endorsed this first initiative. Priorities for the Centre of Excellence are focused on academic readiness, post-secondary program access, and workplace readiness.
Irving Shipbuilding said 20 applicants will be provided 50% tuition funding over the course of four semesterrs (two years) from Irving Shipbuilding to complete the welding and fabrication program at NSCC. Prior to starting the NSCC program, the successful applicants will complete a 14-week pre-academic career readiness program with Women Unlimited.
The Women Unlimited readiness program starts in March 2015 at NSCC Akerley campus. The welding and fabrication program starts in September 2015.
Women Unlimited, funded by the Nova Scotia Department of Labour and Advanced Education (Skills & Learning Branch), is now recruiting for qualified candidates. Successful graduates who meet employment eligibility criteria will be employed by Irving Shipbuilding at the end of the two-year diploma program as positions become available in 2017 and beyond.
Kevin McCoy, President of Irving Shipbuilding, said, "This partnership brings together skill building and workforce diversity. As ships start in September, a new generation of Nova Scotian shipbuilders will start their education. It is a win-win-win-win for the students, our great partners at NSCC and Women Unlimited, Irving Shipbuilding, and the province."
Doreen Parsons, Manager of the Women Unlimited Association, said, "[The partnership] draws together
Irving Shipbuilding Inc.
, the Nova Scotia Community College, Government, unions and Women Unlimited to focus on creating pathways for diverse women to enter the shipbuilding industry. This is a win-win proposition. A more diverse workforce is a stronger workforce."
"The skilled trades are in demand in Nova Scotia," said Kelly Regan, Minister of Labour and Advanced Education. "I'm so pleased Irving's partnership with Women Unlimited means more women will get the training they need to work in these rewarding careers."
"This initiative will help open doors to this important national shipbuilding project and the opportunities associated with it," said Don Bureaux, President of the Nova Scotia Community College. "Each partner in this program is committed to helping Nova Scotia change the makeup of our workforce and ensure all hands are on deck to support this and other emerging economic opportunities in our province."
Rick Rose, National Representative, Unifor, said, "We recognize that to increase women's participation in the trades we need innovative approaches and real commitments that include having industry, union, Government, education and community working together in partnership."
Minister Dianne Finley, Public Works and Government Services Canada (PWGSC), said, "I would like to commend Irving Shipyards and Women Unlimited on this partnership which will help 20 women embark on a new career and be a part of building Canada's next generation of ships for the Royal Canadian Navy. Initiatives like this one demonstrate that our Government's National Shipbuilding Procurement Strategy is creating jobs right here in Canada, while laying the foundation for future economic growth."