German Shipbuilder Files Insolvency Petition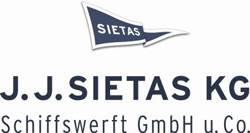 The management of
J.J. Sietas KG Schiffswerft
GmbH u. Co. and
J.J. Sietas Verwaltungs GmbH have
filed a petition for insolvency at the
Municipal Court Hamburg
on 17 November 2011, due to over-indebtedness. Work on ships under construction will continue, according to the company. The court has appointed a provisional creditors' committee of inspection and, following a hearing of this provisional creditors' committee of inspection, has appointed
Lawyer Berthold Brinkmann
of Hamburg as the provisional insolvency administrator and also as consultant with regards to the conditions of opening insolvency proceedings. He will conduct the company's future business dealings together with the management, which remains in office. The aim is to continue work on the five ships currently under construction and to maintain the
Sietas Group
as far as possible as a network.
The management and the provisional administrator will today inform the
Works Council
and the employees and conduct first consultations with clients and suppliers in order to maintain confidence in the work of the Sietas shipyard. All parties involved are working on the assumption that salaries will be secured through insolvency wage pre-financing up to 31 January 2012. Opening of the insolvency proceedings by the court is not expected before the end of January 2012.
According to the company's website, the J. J. Sietas shipyard has been in existence in the west of Hamburg on the
south bank
of the
Elbe since
1635.