USCG Shipbuilding: Ingalls Wins $76m Advance Procurement Contract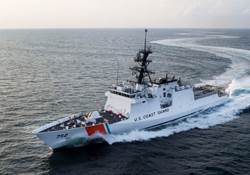 NSCs are 418 feet long with a 54-foot beam and displace 4,500 tons with a full load. They have a top speed of 28 knots, a range of 12,000 miles, an endurance of 60 days and a crew of 110.
The Legend-class NSC is capable of meeting all maritime security mission needs required of the high-endurance cutter. The cutter includes an aft launch and recovery area for two rigid hull inflatable boats and a flight deck to accommodate a range of manned and unmanned rotary-wing aircraft. It is the largest and most technologically advanced class of cutter in the U.S. Coast Guard, with robust capabilities for maritime homeland security, law enforcement, marine safety, environmental protection and national defense missions. This class of cutters plays an important role in enhancing the Coast Guard's operational readiness, capacity and effectiveness at a time when the demand for their services has never been greater.