Major Network Upgrade for US Aircraft Carrier Nimitz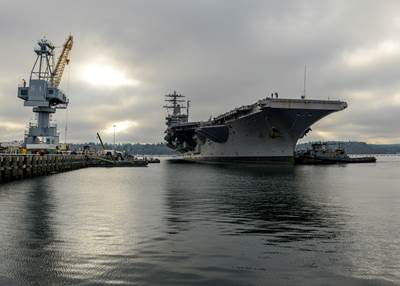 U.S. Navy aircraft carrier USS Nimitz (CVN 68) has received a massive upgrade to its network infrastructure February 16 in order to increase the ship's operational efficiency, security and communication capabilities.
The Consolidated Afloat Network and Enterprise Services (CANES) system's improved security measures are designed to prevent the possibility of classified or secure information being accessed by someone without appropriate clearance, or hardware, the Navy said.
"We ran all new cables," Chon said. "For the first couple of months in the yards that is all we did."
Going through the process of installing CANES, the Sailors in ADP have learned more about the network they are installing.
ADP is also sending Sailors from their department to school to learn more about the CANES system, including how to operate and troubleshoot the system.
Prosser and Chon both agree going through the install process has helped bring the Sailors in ADP together as a team.
"We do need teamwork, there is no way one person can do it on their own," Chon said.
Nimitz' motto is "Teamwork - A tradition", and like the rest of the maintenance and upgrades Nimitz is receiving, ADP is doing its part to ensure that Nimitz is ready for sea by the end of the extended planned incremental maintenance availability.