WISTA USA Discusses Regulatory, Enforcement, Congressional Impact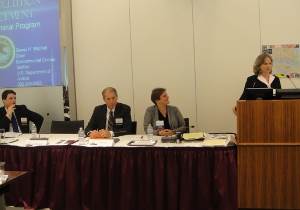 "WISTA USA meets annually in various cities around the country," stated WISTA USA President and Blank Rome LLP partner Jeanne Grasso. "We took advantage of the meeting in Washington to invite high-level public and private sector leaders in our industry to participate in substantive discussions with our membership on Coast Guard regulatory issues, Department of Justice enforcement initiatives and legislative action in Congress. Needless to say, there was a lot to cover."
Jeffrey Lantz, Director of Commercial Regulations and Standards for the United States Coast Guard and the U.S. nominee for Secretary General of the IMO, followed with a description of the rulemakings currently in the pipeline, how many had been concluded, and his belief that with the arrival of new Coast Guard personnel, the processes would be accelerated. Even so, Mr. Lantz noted that with respect to significant rulemakings, they can take several years from start to finish.
Ms. Mitchell expressed her concern about the increase in Oily Water Separator prosecutions, which was echoed by RADM Kenney who indicated that the incidence of violations was on the rise.
Jean Godwin, Executive Vice President of the American Association of Port Authorities, focused her presentation on critical infrastructure needs, and the resources to get projects done. "The federal government does not fully utilize the Harbor Maintenance Tax (HMT) for its intended purpose", Ms. Godwin claimed. "Our infrastructure, including dredging, needs $1.3-$1.5 billion annually. Through the Harbor Maintenance Tax, the government collects $1.5 billion, but these funds are not dedicated to dredging. We need to improve our nation's transportation infrastructure on the land and waterside to increase competitiveness and our ability to accommodate trade growth and expanded exports."
Delegates also had an opportunity to network while touring the Freer/Sackler galleries of the Smithsonian Museum and the U.S. Capitol, watch the House of Representatives debate amendments to an energy bill, and take boat cruise on the Potomac River.