GDI Awards N-KOM US$110-M Contracts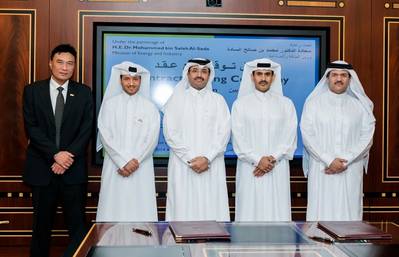 Gulf Drilling International (GDI) Limited, a subsidiary of Gulf International Services (GIS), the largest oilfield service company in Qatar, has awarded two contracts worth US110 million to Nakilat-Keppel (KPELF) Offshore & Marine (N-KOM), a joint venture shipyard between Nakilat and Singapore's Keppel Offshore & Marine (Keppel O&M).
The first contract is for the construction of a self-propelled and self-elevating liftboat, which is customised for field transit operations in the Middle East and North Africa (MENA) region in water depths of up to 65 meters. When completed at the end of 2015, the liftboat will provide accommodation and platform support services for a customer with operations in Qatar.

N-KOM has also been awarded a six-year repair and maintenance contract for GDI's existing fleet of jack-up rigs operating in the Middle East.

The contracts were signed in the presence of His Excellency Dr. Mohammed Bin Saleh Al Sada, the Minister of Energy and Industry. Also in attendance was Mr. Saad Sherida Al-Kaabi, Director of Oil & Gas Ventures, Qatar Petroleum. The contracts were signed by Mr. Ibrahim J. Al-Othman, Chief Executive Officer of GDI, and Eng. Abdullah Fadhalah Al Sulaiti, Chairman of N-KOM.

H.E. Dr. Mohammed Bin Saleh Al Sada, Minister of Energy and Industry said: "Today marks an important milestone in the development of the State of Qatar's offshore industry with placing the order for the first built-in-Qatar liftboat. It also highlights the impressive growth of our offshore industry and of the Erhama Bin Jaber Al Jalahma Shipyard."

Liftboat details
This will be the fourth vessel in GDI's fleet that is dedicated to providing accommodation and platform support services, which are complementary to GDI's core business of drilling. The other diversified vessels in GDI's fleet include the liftboat "Rumailah", the accommodation jack-up "Zikreet" and another liftboat that GDI is managing through a Charter Party.

Designed by Bennett Offshore, a naval architecture and marine engineering arm of Keppel O&M, in collaboration with N-KOM, the LB310-design liftboat can undertake a wide range of services such as well servicing, commissioning, maintenance and decommissioning of offshore platforms. The customized liftboat is equipped with two deck cranes, a large open deck space of around 800 sqm, a helideck, and accommodation capacity for 130 persons. The liftboat also allows for a specially designed gangway bridge to link it to the customer's platform for emergency escape and other safety purposes.

About Nakilat-Keppel Offshore & Marine (N-KOM)
Established in 2007, N-KOM is a joint venture between Qatar's premier gas shipper Nakilat and leading offshore rig constructor and ship repairer Keppel Offshore & Marine Ltd. From its strategic location in the heart of the Arabian Gulf and within the world-class Erhama Bin Jaber Al Jalahma Shipyard complex, N-KOM offers a comprehensive range of repair, conversion, maintenance and fabrication services for marine vessels, offshore and onshore structures.