Ultra-deepwater Drillship 'Maersk Valiant' Delivered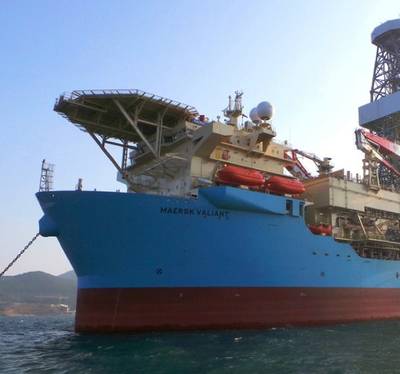 Maersk Drilling advises that its second new drillship, 'Maersk Valiant', has been delivered from the Samsung Heavy Industries (010140.KS) (SHI) shipyard in Geoje-Si, South-Korea.
Maersk Valiant has begun its voyage towards the US Gulf of Mexico via Singapore to commence a two year contract with ConocoPhillips (COP) and Marathon Oil Corporation (MRO).
Maersk Valiant is the second in a series of four ultra deepwater drillships to enter Maersk Drilling's fleet. The four drillships represent a total investment of US$2.6-bn and will be delivered from the SHI shipyard in 2014.

Maersk Drilling has been active in the US Gulf of Mexico since 2009 with the ultra deepwater semi-submersible Maersk Developer. With Maersk Viking and Maersk Valiant entering the US Gulf of Mexico, Maersk Drilling is becoming a significant drilling contractor in the US Gulf of Mexico, which together with West Africa, are the target regions for Maersk Drilling's deepwater activities.
The company says that the estimated contract value with ConocoPhillips and Marathon Oil Corporation for Maersk Valiant is US$ 694-m including mobilisation, but excluding cost escalation.