Rhino's New WaterJet-Powered 950 Work/Dive Boat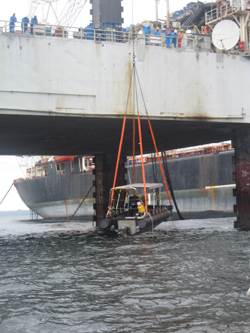 The Rhino hull and superstructure are made from extrusion welded HDPE pipe and sheet and the craft incorporate pontoon seating and up-stand gunnels, lifting pad-eyes, deck lashing pad eyes, consoles and lockers. For operational safety, the forepeak bow-catcher is designed as a separate structure which is welded to the basic hull. This ensures in extreme environmental conditions, severe impact loading causing potential damage to the bow-catcher will be superficial and will not compromise the integrity of the hull itself
The first Rhino Craft was built in 2003. Continually evolving and improving to meet client's needs, the new fully-outfitted Rhino Marine 950 is an extremely effective purpose-built workboat for special offshore Dive SRP operations. Wale Marine together with SMIT Subsea developed the craft further. Hull improvements were made and the sponsons were made from 15mm HDPE to give the workboat extreme robustness to specifically withstand the mistreatment endemic to offshore operations as well as withstanding typical offshore bow-catcher boat landings.
Designed initially for offshore Mother ship dive operations during installations, the Rhino 950 is tailor-made for multi-mission operations, including servicing and repairs, crew transfers, as well as other coastal and near shore operations in varying sea and weather conditions.
Maintenance is low relative to other hull materials. As well as landing on sandy beaches this workboat can also land on rocky beaches!
Currently under construction is the new Rhino 690 EHD (Extra Heavy Duty) being fitted with an UltraJet 251 waterjet