How shipping companies can effectively integrate enriched weather data
Many of the data sources that are feeding into the systems of shipping companies are weather-influenced. For instance, performance and routing data are broadly used to enable shipping companies to make better fleet operating decisions. Especially fuel consumption, which can account for half of the operating costs, allows for significant savings when integrated with weather data — especially with the recent spike in fuel prices.

Shipping companies can bring external data through three means: internal proprietary systems, single systems, or a combination of both. Internal proprietary systems require customized data integration, bespoke and built for the organization in question, whereas single systems are typically a standard purchased platform with pre-integrated data.

A recent DTN research report revealed single system users are more attracted to convenient, accessible solutions, with 75% choosing an all-in-one solution, even if they can't cherry-pick multiple data partners. Only 55% of respondents using internal proprietary systems would choose an all-in-one solution, forgoing opportunities for advanced solutions integrated into existing systems.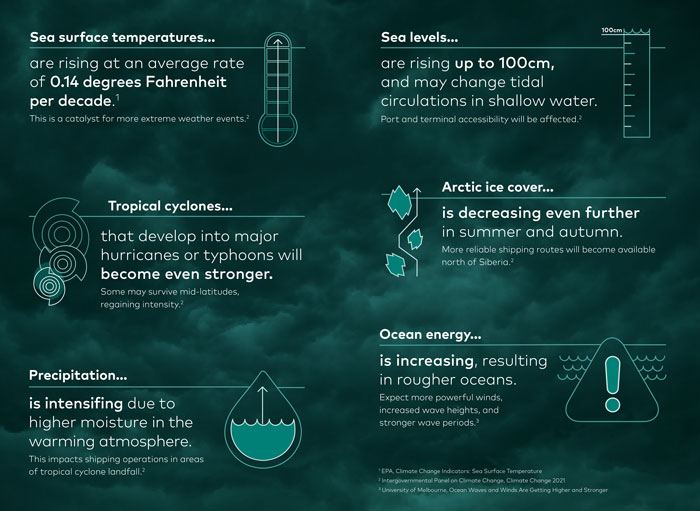 The research report also shows that to make all this data accessible, nearly half of companies use both a single system and an internal proprietary system for vessel performance and maintenance. This approach compares to 37% that only use an internal proprietary system and 19% that use a single system. However, we expect this to change as the available data grows to such an extent that it is almost impossible to maintain a proprietary system.

The shipping industry generates huge quantities of data from every aspect of the supply chain, from sensors in dispatch warehouses to onboard ships, ports, and trucks. More advanced companies are already looking at innovative ways to stretch their use of data. However, the increasing amounts of data make managing, resourcing, and maintaining proprietary systems increasingly complicated.
Solving the data integration challenge: The case for single systems
Every shipping company has data integration projects running; however, these are often siloed. Digitalization delivers the greatest value when performed across an organization, built on a data-sharing culture with processes and people driven by a clear leadership buy-in and company mission.

Many respondents to the research felt that these fundamentals are missing, which provides a significant barrier to accelerating digitalization and data integration projects. The report highlights the single biggest obstacle to digitalization poor data collection process, as confirmed by 45% of respondents. One in five also identified a lack of leadership buy-in as a top barrier.

These sophisticated data integration projects have typically relied on proprietary systems used by market leaders who are more advanced in their integration journey. But, increasingly, the availability of innovative single-system platforms featuring pre-integrated data makes access to similar capabilities possible. With strict regulations on the horizon, the number of shipping companies that adopt a single system will grow as data integration becomes a key requirement.

Making enriched weather data available through single systems

For most companies, the resource requirements for proprietary IT systems are not practical. As data volumes increase, it will become more costly for organizations to maintain their own proprietary system. Therefore, demand for single systems, purchased as a platform with pre-integrated data, will increase – especially as these systems become more sophisticated and powerful in their own rights.

Full weather data integration is an emerging phase in digitalization for the shipping sector. Shipping companies are understandably focused on vessel improvements like fuel type and ship engine optimization first. But as companies attempt to navigate increasingly complex market conditions, combining these existing optimization approaches with weather-enhanced use cases help provide an edge. Incorporating weather data into performance and decision making systems allows shipping operators to overlay information for a complete situational analysis, supporting more confident decisions. Applying this analysis to a fleet of vessels in different locations multiplies the value weather insights provide

Advancements in technology, cyber security, and computing power have enabled shipowners who choose single systems to access rich data from integration partnerships in near real-time. For example, DTN works with a range of shipping platform developers to provide integrated weather data that works within existing systems. At the same time, the market for SaaS platforms is growing fast. This trend enables shipping companies to quickly and easily implement integrated decision-making tools and accelerate digitalization in the industry. As single-source systems advance in capabilities and data aggregation, both large and small ship operators will have more complex and accessible data at their fingertips for swift, confident decisions.