Emerson's Joystick System Simplifies Marine Vessel Maneuvers
Docking vessels can be challenging, even for experienced skippers.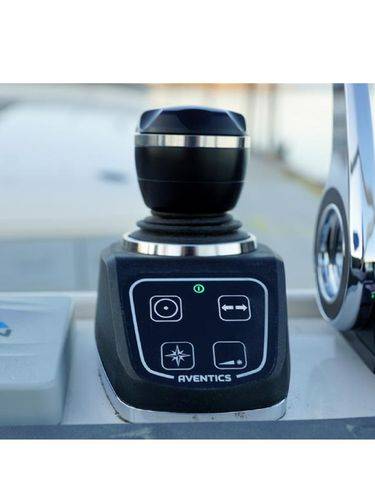 In narrow spaces, the steering wheel, main and auxiliary drives must be operated at the same time while the ship is drifting off with wind and current. The AVENTICS™ Marex 3D allows for performing such maneuvers via one control element only – the Marex 3D Joystick.

Designed to enable single-handed operation of yachts, speedboats and pleasure craft, the joystick system provides the user with outstanding precision, for stress-free and safe maneuvers. Optional dynamic positioning features round off the convenience package.

As an option, more comfort functions can be selected at the push of a button. "3D Hold'" keeps the ship at a defined spot, removing the need to steer manually while waiting at water gates or narrow port entries. Marex 3D intelligently controls the available drives to keep the ship's heading and position. The virtual anchor mode allows the ship to drift around a defined point as if attached to an invisible anchor chain. The main engines will be operated economically in order to minimize fuel consumption and noise.