First of 54 GPA AHTS Vessels Under Construction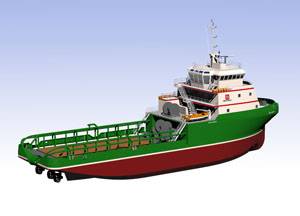 Guido Perla and Associates, Inc. (GPA), announced that the first GPA 254L AHTS, one of 54 identical vessels for French Maritime Services Provider Bourbon Offshore, is currently under construction at Dayang City Shipyard in . In 2006, Bourbon had placed an order for 26 of the GPA 254L AHTS and had expanded the order in 2007 by 28 additional vessels, which will be built at the new facility in .
The design of this modern D2-and FIFI1- certified offshore AHTS, measuring 59.78 meters in overall length, is accompanied by several benefits and will set new operation mode in anchor handling.
Due to GPA's diesel-electric propulsion configuration, consisting of three 1,825kW main diesel generators, one 170kW emergency generator, two 1,685kW Azimuthing Z-Drives, one 1,685 Fixed Z-Drive and two 570kW bow tunnel thrusters, fuel efficiency is increased, allowing the customer to profit from cost savings, lower emissions and higher reliability.
With the GPA 254L AHTS, along with the GPA 654 PSV, Guido Perla & Associates has pioneered the concept of locating the engine room above the main deck in offshore vessels made possible by the diesel-electric configuration. Locating the engine room above the main deck eliminates drive shafts and maximizes the below deck cargo carrying capacity of these vessels, creating capacities usually found in larger vessels. Thus, the vessels are capable of transporting 544m³ fuel oil cargo, 157m³ bulk mud, 660m³ liquid mud, 345m³ drill water, 355m³ fresh water and 117m³ ballast water. With these proven designs, the slightly higher center of gravity coupled with effective dampening has produced a vessel that has very comfortable roll characteristics
The configuration of the diesel-electric propulsion system of the GPA 254L AHTS provides for full redundancy of all major propulsion components and like all of GPA's offshore designs, the configuration also provides for an ease of maintenance on major propulsion components. As with all Dynamic Positioning Class 2 vessels, station-keeping at offshore installations also improves, thus significantly decreasing safety concerns.
Bourbon principally intends the vessels to be used for the replacement market operating in the continental offshore arena.
The series is expected to be completed in the spring of 2011.