Fitting a pair of Cummins QSK38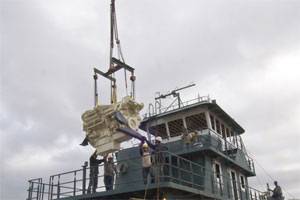 The single most expensive component of a new boat is the engines and installation is one of the most crucial days in the build process. It takes several months to build a typical inland river pushboat but lifting the engines into the hull is a short intense job.
Joey Portier at Intacoastal Iron Works in Bourg Louisiana has done the job countless times and was very familiar with the dimensions of the Cummins Tier 2 mechanical KTA38 engine. However, last December a client for one of Intracoastal Ironworks standard 72 by 30 ft pushboats specified the Tier 2 electronic QSK38 for a boat under construction. The new tier 2 compliant engines have the same block dimensions but some of the accessories have increased the exterior dimensions and the overall weight.
The increase in the dimensions of the new engines raised the bar for the installation, but Portier approached the job with his usual aplomb. Within three or four hours the engines had been lifted from the shipping skids and lowered through two decks to their engine beds in the new hull. To fit through the main deck they had to be tilted with the forward end down. Portier directed his crew to move the several chain-driven come-alongs from position to position to manage the job.
Once the engines were in place a pair of heavy steel beams were laid over the hole through which they were lowered so that the installers could easily move then around to line-up with the Twin Disc gears.
Dimensions of a Cummins KTA38
Length 2152 mm 84 in KC
Width 1462 mm 58 in
Height 2083 mm 82 in
Weight 4218 kg 9300 lb
*dimensions and weight may vary based on selected engine configuration
Dimensions of a Cummins QSK38
Length 2688 mm 106 in KC
Width 1642 mm 65 in
Height 2108 mm 83 in
Weight 4640 kg 10230 lb
*dimensions and weight may vary based on selected engine configuration