Impressive Dutch Vessel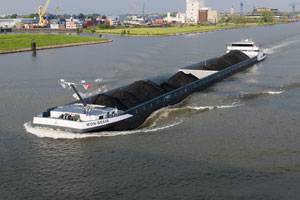 If there was a worldwide competition for the most immaculate engine room, it might very well be won by an engine room from the Netherlands. In fact it might even belong to Mr. and Mrs. Van der Stelt whose new vessel, Mon Desir, transports coal along the river system from the German Ruhrgebiet.

The 443 ft long hull of the ship was built near the mouth of the Volga River in the JSC 3d International Shipyard in Astrakan Russia. The vessel was completed at the TeamCo Shipyard in Heuden the Netherlands. The main engines in the vessels immaculate engine room are a pair of Cummins QSK50-M machines each producing 1700 HP at 1800 RPM. The engines are EU Stage iiia and EPA Tier 2 compliant.
Although the Mon Desir is employed in the transport of coal the 46.5 ft wide hull with its 13 ft molded depth has a potential other cargos including short sea shipping of containers.