Keppel Secures New Contracts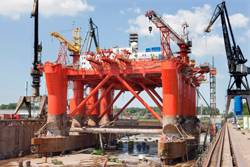 Keppel Offshore & Marine Ltd (Keppel O&M) has secured contracts worth over $20.7 million through its overseas subsidiaries for the upgrade and repair of three semisubmersibles (semis). One of these contracts, secured in the Netherlands, is for the inspection and repair of a semi accommodation rig, COSLRIVAL (ex-Port Reval), from China Oilfield Services Limited. K&O plans to upgrade COSLRIVAL's electrical switchboards and piping systems and overhaul its marine equipment and deck crane reinforcement.
In Brazil, Keppel FELS Brasil clinched contracts for the repair and upgrade of two semis — Noble Drilling's Noble Paul Wolff and Diamond Offshore's Ocean Yatzy. The Noble Paul Wolff will receive new piping systems, tank anodes and steel work. Leased by Petrobras from Noble Drilling, the rig will return to work in offshore Brazil after her repairs in the BrasFELS yard. Meanwhile, the Dynamic Positioning drilling semi Ocean Yatzy will undergo structural repairs on its lifeboat platform, stability column and helideck, as well as its piping and steel deck.