Drydocks World, BP Renew Partnership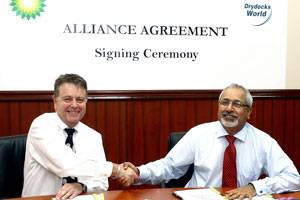 Drydocks World – Dubai, the flagship ship repair, conversion and new building yard of Drydocks World, has renewed its long-standing association with BP Shipping with the signing of a new Alliance Agreement.

According to the Agreement, signed by Nawal Saigal, Managing Director of Drydocks World – Dubai, and Dave Williamson, VP Fleet Operations of BP Shipping, the two companies will work closely to achieve optimum production levels based on mutually agreed terms, which includes strict implementation of accepted standards in safety, quality and environmental protection. The Agreement was signed during a two-day forum attended by representatives of both companies that explored areas of mutual co-operation. An Alliance Health, Safety and Environment Operating Manual was also signed during the forum.

Under the terms of Agreement, a joint team headed by Ravi Senaratne, Commercial Director, Drydocks World – Dubai and Andrew Cassels, Manager, Fleet Integrity Team, BP Shipping, will monitor all repair projects from the outset, even prior to the vessel's arrival in Dubai, until the work is complete and the ship leaves the yard.