Vosta LMG Adds MFD250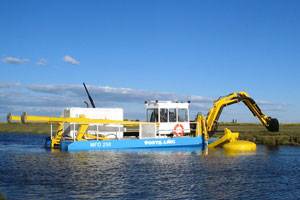 Vosta LMG is proud to announce the addition of a Multi Functional Dredge (MFD) to its product range. This Multi Functional Dredge complements the product portfolio for small dredges. The MFD250 combines different technologies in one unit. The standard product is supplied with three different tools which can be connected to the boom. The MFD250 has an option for vegetation control in the form of a rake, a 400 l bucket for excavation and also has the option of using a small cutter with two underwater pumps for dredging sand and mud. This product is designed for a quick mobilization and is very user friendly.

The MFD250 is an amphibious tool. It is not only self propelled but by means of tilting spuds and using the floats installed in the front of the dredge, the unit is able to move itself over dry land, shallow water and swamp areas. The MFD can very easily be transported over road and loading and unloading can be done without crane assistance. The MFD250 can be operated by one person only. The cabin is air-conditioned and has an ergonomically designed seat for maximum comfort.

The standard version of the MFD250 is suited to perform a wide variety of jobs. With this product Vosta LMG is entering a new market segment within the dredging industry. One of the reasons that Vosta LMG decided to enter the small dredges market, are the many requests from customers for shoreline and waterway reconstruction jobs.

Using the combination of bucket and cutter head, maintenance jobs can be done easily. The dredge is suitable for deepening jobs as well as reconstruction jobs. The rake is used for removal of mixed soils, blended with vegetation. Maintenance of harbours and vegetation control can be done with the rake as well. The MFD250 can also be used for flood protection or flood prevention.

With its new product Vosta LMG offers a small dredge that can do all this for waterways, lakes, small rivers and small channels with shallow waters. One of the additional options the MFD250 has, outside the basic model, is a pile drive unit which can be fitted on the boom and used for driving wooden piles or sheet piles into the ground.