Crowning the Decades Crew Supply Boats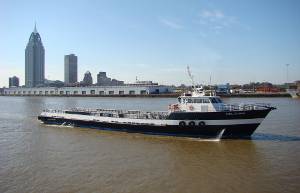 Looking back at the Cummins Hotips#84 from 1999 (www.haig-brown.com Hotips) one can see how this class of vessels has evolved over the past decade. The crew boats were already getting larger with vessels up to 183 by 35 ft being the largest built for the Gulf of Mexico at that time. The larger boats demanded more power with the shift from six-cylinder 700-HP KTA19 engines to the larger 12-cylinder 1350 hp KTA38-M2.

In the spring of 2009 C&G Boatworks in Mobile launched the crewboat Gulf Princess for Graham Gulf. At 185 by34 ft the size had not grown so much but the level of sophistication had. The new boat was DP1 rated as charterers have come to value this position holding innovation. The engines had also undergone some significant changes over the decade. The new boat, whose keel had been laid in 2008, was powered by four 1800 hp Cummins KTA50-M main engines.

As an indicator of how quickly the crewboats and their technology continue to evolve a sistership to the Gulf Princess was launched from C&G Boatworks later in 2009. The Sybil Graham now had the necessary redundancy to be rated DP2. The engines were now four of the newer electronically controlled 1800-HP QSK50-M that meet the US Environment Protection Agencys Tier 2 requirements. These additions to the sophistication of the modern crewboat where barely visible on the horizon a decade ago.

The Cummins series of EPA and IMO compliant Tier 2 engines feature modular common rail fuel systems that provide constant high injection pressure regardless of engine speed or load conditions. They also have advanced designs in the aftercooling, turbochargers and heat exchangers and other features that enhance efficiency. The 24-volt Quantum System electronics feature a CM850 ECM to monitor operating parameters such as fuel consumption, duty cycle, engine load and speed, while providing diagnostics, prognosis and complete engine protection. As the Sybil Graham goes to work in the Gulf of Mexico she will look similar to earlier boats but she will carry a new level of operational capabilities and reliability into the millenniums second decade.