Grassley Receives WCI Leadership Award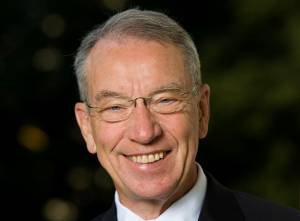 Senator Chuck Grassley (R-IA) will receive the Ninth Annual Waterways Council, Inc. Leadership Service Award on Wednesday, February 24, 2010, at 6 p.m. at the W Hotel, Washington, DC.

As one of the principal leaders in the effort to get the Navigation and Ecosystem Sustainability Program (NESP) authorized in the Water Resources Development Act (WRDA) of 2007, Senator Grassley will be honored for his strong support for the improvement of the Nation's ports and commercial inland waterways system, like the Mississippi and Missouri Rivers which make up Iowa's east and West Borders, over his five terms in Congress.

"Our ports and inland waterways are vitally important to the economic well-being of our country. States like Iowa may be landlocked, but the rivers that lead out of my state provide countless opportunities to move our products to the world. It's an honor to be recognized by the Waterways Council, and I look forward to continuing our efforts to ensure an efficient and effective waterway system," Senator Grassley said.

Recently casting his 10,000th vote in the Senate, Grassley -- Iowa's senior senator -- joined only 28 other senators in history to achieve that milestone.

He is a member of the Senate Finance Committee, serving as its Ranking Member; the Committee on the Judiciary, the Committee on the Budget, and the Committee on Agriculture, Nutrition and Forestry, as the only working family farmer serving on Committee. He is also a member of the Joint Committee on Taxation.

Past recipients of the award include Senator Tom Harkin (2009); Representative James Oberstar (2008); Senator Robert C. Byrd (2007); Representative David Hobson (2006); Representative Jerry Costello and Representative John Duncan, Jr. (2005); Senator Kit Bond (2004); Senator John Breaux (2003), and Representative Sonny Callahan (2002).