EU NAVFOR Destroys More Suspect Pirate Skiffs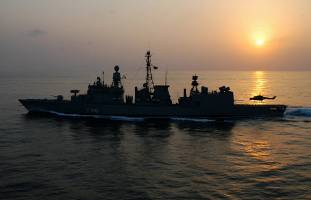 EU NAVFOR units operating in the Somali Basin, between the Seychelles and the Somali coast, have discovered more suspected pirate activity. In an area close to the disruption of five pirate attack groups by EU NAVFOR, EU NAVFOR German warship FGS Emden intercepted a suspect pirate group consisting of a mother ship and two skiffs.

The pirate mother ship was first detected in the late hours of 11 March by the EU NAVFOR Luxemburg Patrol aircraft who directed the EU NAVFOR German warship Emden onto the pirate group. On approach by Emden, two small skiffs attempted to flee the scene and pirate paraphernalia consisting of ladders and hooks were seen being jettisoned overboard. Emden's helicopter eventually rounded up the trio and boarding parties were sent onboard. All suspected pirates have now been returned to the mother ship, one of the skiffs has been sunk and EU NAVFOR ships Emden has retained the third skiff as evidence.