Transocean Ultra-Deepwater Drillship Contract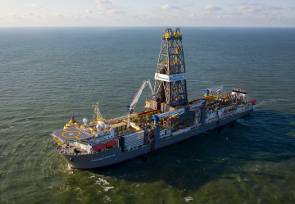 Transocean Ltd. (NYSE:RIG) announced that the newbuild ultra-deepwater drillship Discoverer Inspiration has commenced operations for Chevron U.S.A. Inc., a wholly owned subsidiary of Chevron Corporation (NYSE:CVX), in the U.S. Gulf of Mexico under a five-year drilling contract.

The dynamically positioned double-hulled Discoverer Inspiration includes the most advanced drilling capabilities in the offshore drilling industry. The vessel is an enhanced version of Transocean's three predecessor Enterprise-class drillships, which have set deepwater drilling records in recent years, including the world water-depth drilling record of 10,011 feet set by the Discoverer Deep Seas while working for Chevron in the U.S. Gulf of Mexico.

One of 25 Ultra-Deepwater Floaters in the Transocean fleet, the Discoverer Inspiration features Transocean's patented dual-activity drilling technology, which allows for parallel drilling operations designed to save time and money in deepwater well construction, compared with conventional rigs. The dual-activity technology, along with a new and enhanced top drive system, a high-pressure mud system and other unique features of the drillship target the drilling of wells up to 40,000 feet of total depth. The rig also has a variable deckload of more than 20,000 metric tons and the capability of drilling in water depths of up to 12,000 feet.

In addition to the Discoverer Inspiration and six newbuild units placed into service in 2009 and 2010, Transocean has three newbuild Ultra-Deepwater Floaters in various stages of construction or preparation for initial contracts which are scheduled to commence operations in 2010 and 2011. Two of those vessels, the Discoverer India and the Discoverer Luanda (the latter owned by a joint venture company with Angco Cayman Limited), are also enhanced Enterprise-class drillships. The other unit is the drillship Deepwater Champion.