ABS and AL Group to Study Methanol Fuel Conversion for Bulker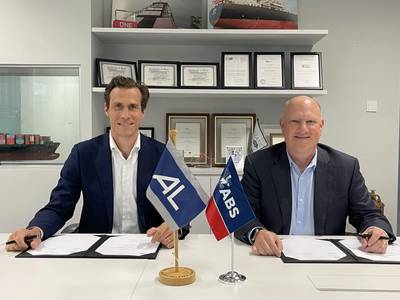 ABS and Asiatic Lloyd Maritime LLP, member of the AL Group, have signed a joint development project to study the feasibility of converting the fuel system of an ultramax bulk carrier, from conventional diesel to methanol.
The study is focused on a series of up to eight ABS Classed ultramax bulk carriers ordered for construction in the New Hantong Shipyard, China, for AL Group.
"Converting vessel propulsion systems to take advantage of the decarbonization potential afforded by methanol is going to be an important part of the industry's green energy transition. It is great to work with forward-thinking partners like AL Group to support their development of a modern fleet with operations," said John McDonald, ABS President and COO.
"At AL Group, we continue with unwavering dedication on our journey of sustainability and efforts on decarbonization. This joint development project with ABS allows us to explore actively the adoption of low-carbon fuel options for our future fleet, while fortifying our commitment to environmental stewardship, emissions reduction, and innovation," said Friedrich Bunnemann, Managing Partner of AL Group and Asiatic Lloyd Maritime LLP.