China to Accelerate Offshore Energy Search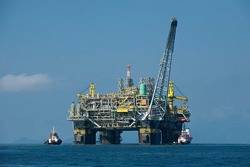 China to invest heavily in offshore energy search
China plans to accelerate geological exploration and survey work for oil and natural gas to ease its rising reliance on energy imports, according to the Ministry of Land and Resources, which intends to draw up strategies to achieve breakthroughs in exploration, energy efficiency and replacements for oil and gas. The ultimate goal is to cut China's expanding dependency on foreign oil and to guarantee energy security.
In 2011, China's new proven geological reserves of oil and gas reached 1.37 billion tons, the highest since the Daqing Oilfield - China's biggest - was discovered in the 1960s, according to Wang Changbo, deputy director of the ministry's department of mineral resources reserves. New proven reserves totaled 5.74 billion tons during the 11th Five-Year Plan (2006-10).
China, the world's second-biggest oil user, imported 250 million tons of crude oil in 2011, taking its foreign oil dependency ratio slightly past 55 percent. causing experts to warn that the nation's high reliance on oil imports will threaten the country's energy security.
The ministry is encouraging the public and private sectors to invest in exploration and surveying for natural resources with a 120 billion yuan ($19 billion) fund available to meet exploration and surveying costs.