Access to Santos Port Back to Normal After Fire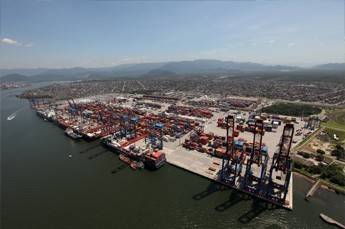 Access to Brazil's largest port, Santos, was fully restored for cargo and passenger vehicles on Monday after one entrance had been partially blocked for a week due to a fire at a nearby fuel-tank facility, highway operator Ecovias said.
Authorities had blocked the entrance due to its proximity to the fire at the fuel-tank facility operated by Ultracargo, a unit of
Brazilian chemical
and fuel-distribution company Grupo Ultra. An entrance on the opposite side of the port's shipping channel, in Guaruja, was not affected.
With access to the port restricted, Santos was unable to export 400,000 tonnes of soybeans and soymeal at a time of year during which
Brazil accounts
for much of the world's supplies, soy industry association Abiove said.
(Reporting by Gustavo Bonato; Writing by Caroline Stauffer; Editing by Peter Galloway)