Lifetime Achievement Award for MTN Technocrat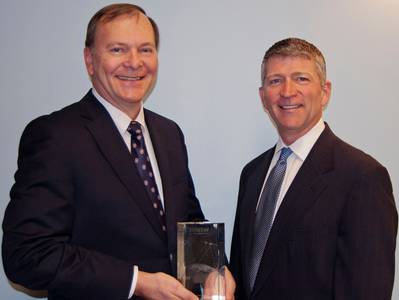 MTN grants Lifetime Achievement Award to pioneer of broadband communications at sea, Richard Hadsall.
The CEO and president of MTN Satellite Communications (MTN), Errol Olivier resently made the award at the company's Town Hall.
Richard Hadsall , chief technology officer of MTN Government Services, pioneered the first C-band and Ku-band satellite broadband communications (TV, voice and data) at sea in the 1980s. Thanks to Hadsall's innovation, today MTN delivers critical satellite and terrestrial communications to most of the world's cruise lines. In addition, hundreds of yachts, commercial oil & gas vessels, and government ships, aircraft, vehicles and facilities around the world benefit from MTN connectivity.

In 1981, Richard Hadsall founded the company that created what is today MTN's teleport in Holmdel, N.J. That teleport was a communications center that made it possible for networks such as ABC, NBC, CNN; foreign broadcasters; and heads of the U.S. Government, Military and Embassies to report live events across the world for the first time. The company partnered to build the first maritime antenna operating in Ku-Band to be used on the U.S. Navy's LPH-2 USS Iwo Jima. This enabled the first tactical full motion Ku-Band satellite video broadcast terminal at sea for surveillance and press pool support in the Persian Gulf.

Hadsall received a 2011 Emmy Award for Technology & Engineering for creating for NBC an MTN-retrofitted Ford F350 vehicle with live TV and satellite transmission to continuously broadcast reports from Iraq. He enabled the first-ever live broadcast capabilities for ABC's Good Morning America Whistle Stop Tour from a moving train. And he engineered the first live broadcast from a submarine submerged below the Atlantic Ocean.

" Richard Hadsall not only created our company, and its spirit of innovation and service excellence, but the entire maritime VSAT (very small aperture terminal) sector in satellite communications," said Errol Olivier . "He is known for pioneering new technologies that become long-standing solutions. His passion and dedication set the tone at MTN, and this award gives us a proud moment to celebrate with the broader maritime industry and community."