Asia Pacific Safety Agencies Forum Meets in Vietnam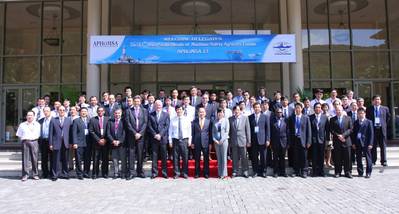 13th Meeting of the Asia Pacific Heads of Maritime Safety Agencies Forum was held in Nha Trang, Vietnam, recently
More than 70 high level participants from across the Asia-Pacific region attended the meeting along with the IMO, IALA and ReCAAP (a regional forum to combat piracy).
Australia's delegation was led by Australian Maritime Safety Authority's (AMSA) CEO, Graham Peachey, who provided a presentation to the meeting on technical cooperation, the Maritime Labour Convention and search and rescue.
The benefits of AMSA's technical cooperation program and AMSA's standing in the region were evident at the meeting with many delegations expressing thanks to Australia for their leadership and regional initiatives - particularly technical cooperation activities related to Port state Control, marine environment protection and search and rescue.
The next APHoMSA meeting will be held in Australia in 2013. In the meantime, as international shipping increases in the Asia-Pacific region, AMSA will continue to cooperate at a regional and international level to help ensure a safer, more environmentally sensitive maritime sector into the future.