Indian Aircraft Carrier to Sea Trial Shortly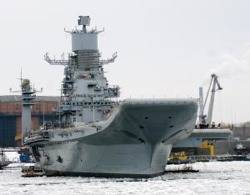 Indian Navy aircraft carrier 'INS Vikramaditya' to start sea trials soon
Indian Navy's aircraft carrier INS Vikramaditya (former Russian Admiral Gorshkov) will depart for the White Sea on June 8 at 2 am to start sea trials, according to a Sevmash shipyard spokesman.
The carrier's sea trials will last 120 days. If any defects are detected, the ship will stop trials and return to Sevmash to put them right.
The Indian Navy was planning to begin trials of the carrier in late in May 2012. Sevmash shipyard is due to deliver the ship in Dec 2012.
India agreed with Russia to purchase Admiral Gorshkov in 2004. The contract value was $1.5 bln. According to the contract, India received the carrier for free but was obliged to modernize the ship at Sevmash and to equip her with Russian-made deck-based fighters MiG-29K/KUB. Later on, the contract cost has grown to $2.3-billion.

At present, Indian Navy operates one aircraft carrier – INS Viraat.