All American Marine Delivers the R/V Manta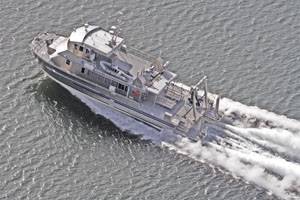 All American Marine has delivered an 82-ft.Teknicraft research catamaran built under contract for the National Oceanic and Atmospheric Administration (NOAA). The R/V Manta will operate in the Flower Garden Banks National Marine Sanctuary, located 100 miles offshore, directly south of the Louisiana-Texas boarder. The Manta is NOAA's fifth Teknicraft Design catamaran built by All American Marine.
The Manta will host a variety of research missions and visiting scientists concentrating on seafloor mapping, habitat characterization, data collection, and the monitoring of the health of ocean species and reefs. Designing a flexible platform that could quickly and easily be reconfigured depending on the current mission was critical for NOAA's research purposes. The Manta features over 700 sq. ft. of working space on the aft deck, with a complete complement of working gear and an extensive grid of deck sockets. The deck sockets are spaced every two feet and allow equipment and gear to be secured, moved, or removed from the working deck. AAM custom fabricated twin dive benches that mount via the deck sockets and accommodate a total of 20 divers and their gear. Oversized dive platforms connect to the transoms of each hull and the port side platform has been designed so that it can dually function as a docking and boarding platform for the Manta's 15.5 ft. rigid inflatable tender skiff. The Manta features an onboard Nitrox compressor, a fully equipped dive bottle fill station, three dive showers, and a private head located on the aft working deck. The working deck also contains a Morgan Marine articulating knuckle crane and a hydraulically actuated A-frame with 4,500 lbs. S.W.L. The Manta's scientific capabilities are further enhanced through a Markey Machinery Com-7H scientific winch and a Kinematics Marine hydraulic trawl winch mounted on the upper deck. A complete weather and water monitoring system by Seakeepers Society has been included and the vessel is outfitted with custom brackets to accommodate pole mounted transducers for survey work. Retractable awnings are installed on both the upper and lower aft deck spaces.
Inside the Manta are 5 private staterooms, two heads, a fully equipped galley, and a large multipurpose settee and dining area. Over 250 square feet is dedicated laboratory space for separate onboard wet and dry laboratories, complete with fresh and salt water plumbing, chemical stations, refrigerator, freezer, desk space, and a computer network. Scientists in the dry lab have access to controls for the hydraulic A-frame and winches and can easily monitor mission operations via the closed circuit television system. The R/V Manta is powered by twin Caterpillar C32 ACERT engines, each delivering 1600 brake horsepower at 2300 rpm. The propulsion package includes ZF 3050 transmissions which drive Hamilton Jet HM 571 water jets. The vessel cruises at 27 knots and can reach speeds topping 34 knots. The Manta's fuel consumption is excellent, using approximately 5 gallons per nautical mile at speeds ranging from 22 knots to 31 knots fully laden. A range of 650 nautical miles is possible with the 3600 gallon fuel capacity inclusive of reserves.